Flexibility is key. Ensure your POS vendor works with the payment processor/gateway of your choice, so that you can control cost. If you're already using applications important to your business, make sure the POS can integrate with them seamlessly, so that you can continue using them."
Posso POS Online food ordering system –  Our restaurant online food ordering system could actually be just what your restaurant needs to make online sales sky rocket. Many Posso customers are already using this amazing solution and with our help and knowledge are expanding their online presence exponentially.
60% of customers say they order food online at least once a week, and 31% – at least twice. How much can you earn from it? 34% of customers spend at least £50 on online orders. 
So with no Fat commissions to pay out to food order platforms like Just Eat and Deliveroo  you keep 100% of the profit we integrate with our superb POS software
How does Posso POSonline food order system work? Why do you need online ordering systems? We will answer these  questions and more please read on.
POS? What is the best POS?
An online food ordering system linked to our POS will make it possible for your business to sell food online without the involvement of any external portals such as Just Eat – Uber eats – Deliveroo or the need to pay commission.
Posso POS provides the possibility of online ordering on your website (and you don't need any technical skills or help from IT specialists), which will enable your customers to place orders online.
The Posso POS & online order system will make it possible to order food through your food website.
You also have the possibility of launching a native restaurant mobile application for iOS and Android devices.
This is an additional sales channel that will increase the number of food delivery orders recieved at your restaurant. You will become the first choice when your customers think about ordering food.
Your business app will be available on their smartphones at all times! Orders placed via smartphones and mobile applications by 2020 will be a MULTI  billion GBP industry!
More customers equal bigger profits for you.
POS & Online ordering, click & collect and mobile app for takeaways, restaurants, cafes, pubs and other catering businesses NEED POS
Posso Ltd. is already trusted by food businesses to provide their POS & online ordering system, click and collect service and mobile app, to help reduce their costs, increase orders and to grow their profits.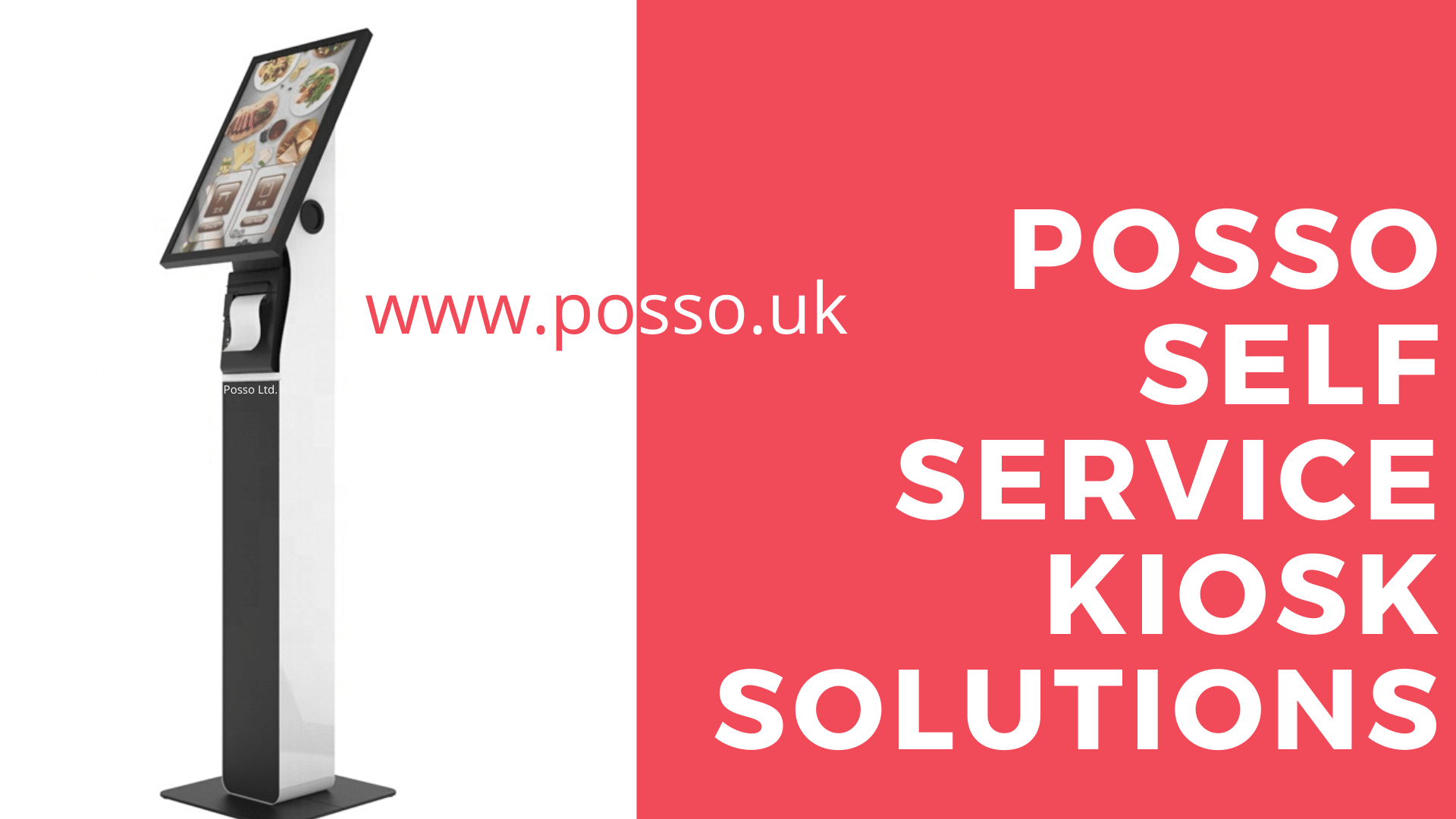 POS – Online ordering, click and collect, loyalty and marketing
We build you your own mobile app, website and online ordering system, with loyalty, card payments and marketing tools, all individually branded to your business with your colours, logos and images.
We include a printer & tablet to handle your online orders and we provide full training, backup and support, so you can increase your order numbers, reduce your costs and grow your profits.
Cut out the 'middleman' and stop giving away 20-30% of your income in commissions and admin fees and increase your profits.
We make it super easy for your customers to order their takeaway direct from you. All money is sent direct to your bank account and our fee is fixed, so you know exactly what it costs.
1. Brand new food delivery site with POSSO POS 
You've come to the right place! You certainly have lots to do. No worries. Allow us to develop your website and help launch it in the online food ordering system so, while you take care of what's most important for you, we will handle everything you need so that you can start earning as much as possible with online orders.
2. I don't sell online at the moment
Did you know that according to forecasts, the market for online orders will increase by 79% in 2022 and will be worth 76 billion Dollars? So, if you haven't been offering online sales, now is the time to start! We will take care of the management.
3. I sell food through 3rd party ordering systems such as Just Eat & Uber eats? DO I NEED POS
With the help of the menu system, you can effectively reduce the commission costs you have to pay to a portal. With an online food ordering portals alternative, you will be in a far better position to negotiate the terms of cooperation with a food portal. Additionally, we will show you how to redirect customers who place orders through the portal to your own online orders.
If you offer your customers only takeouts, not food delivery, then you can also use Posso food order system.
Posso food order system will work exactly like delivery and you will receive all its functions as part of the subscription. You will simply allow customers to have only online takeaway ordering service. If you ever decide to provide deliveries, just easily add this option. No extra charges.
3 biggest benefits of an online POS food ordering system
Takeaway owners could be £4000 a month better off!
If you are already using a online ordering portal, then you may be paying 20-30% commission on every single takeaway order.  We offer a proven alternative and we charge a simple flat monthly fee.
Posso have already helped its customer save £££££ in potential commissions, with many saving £3000-£4000 or more every month.
An online food ordering POS system is a completely new sales channel and a tool that will help you generate more profit and better organise work at the restaurant, while you also make savings. Thanks to this, you can bypass your competition and get closer to your customers!
Posso  online food ordering POS system is very easy and convenient for your customers to use. Currently, almost half of all orders for delivery are placed through a restaurant website or mobile app.
Customers want to order quickly and without mistakes so why not make it possible for them!
An online food ordering POS system is the ideal 3rd party ordering portal alternative. With such a system, you can limit the costs of commission. A food ordering platform can be used to gain new customers. Later, you can redirect them to your own food ordering system backed website. 70% of customers say they would prefer to order directly at a restaurant, not on a food portal.
Your customers look for food POS online. If they can't find you in the Google search results, they will order food from your competition, who are certainly there already. Build your own SEO-friendly restaurant website and let people find you.
Posso are  helping hundreds of businesses, just like yours, to take 1000's of orders a month, paying 0% commission and keeping 100% of the money.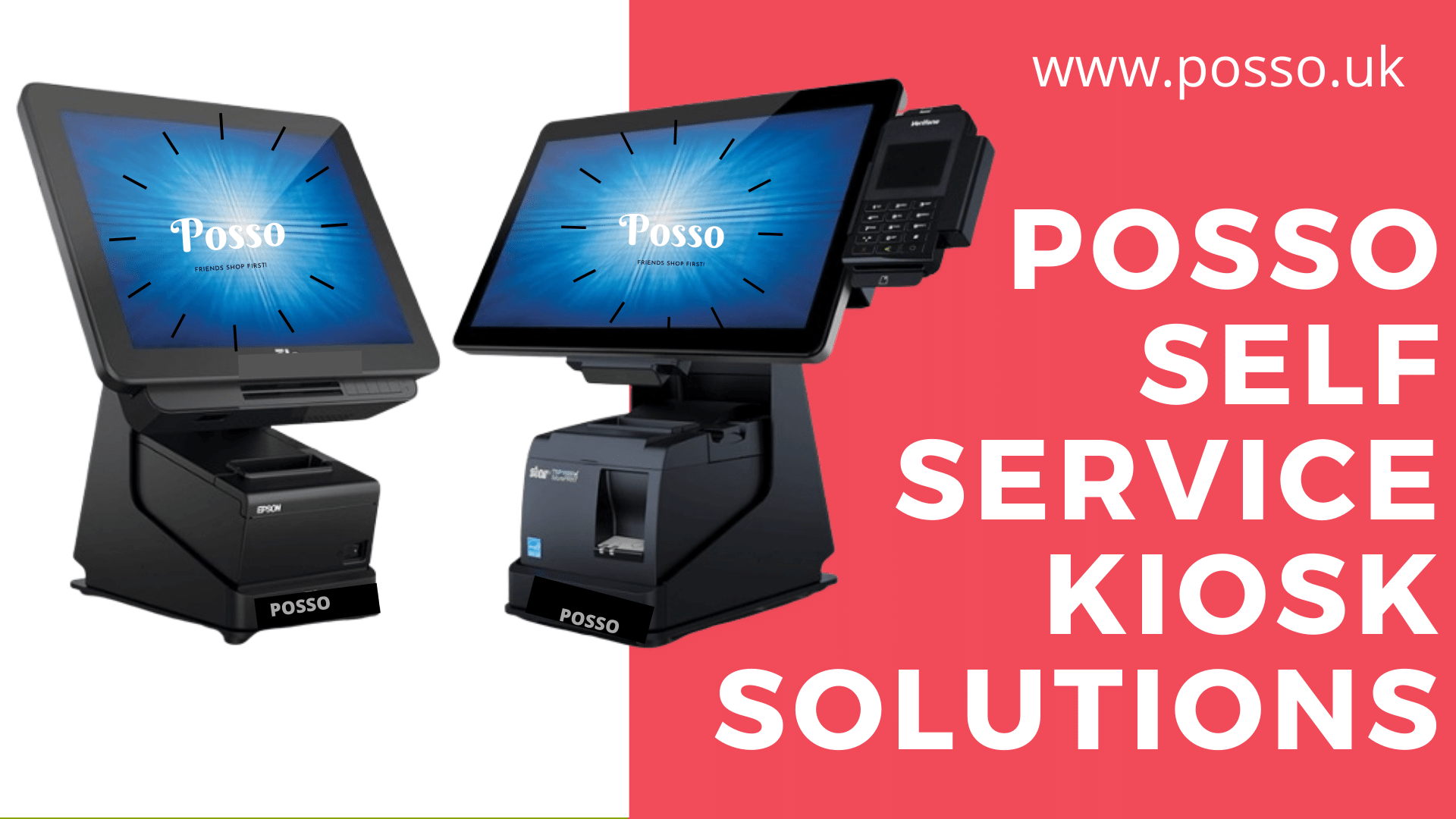 POS –  PUSH Notifications are a powerful feature of the Posso online food ordering system
The Posso system helps restaurants to sell food online successfully. Designed to handle multi sites and single sites. Send out Notifications directly to the end users app on their phne. Users cannot stop push notifiations they are delivered instantly and can boost sales in quite times
POS – 10 tips to increase online ordering & Food order marketing with Posso
An online food ordering system is not just the possibility of placing orders online. Posso have a  package of tools that will help you in your daily promotions of your online order site.
1. POS – Building the database automatically
When your customers place orders, the Posso Food ordering  system will start building a  database automatically. You will be the owner of it and you can decide how to use it. We can show you how to link 3rd part systems like Mailchimp to send our regular Bi Weekly new letter with HTML delivering automatically amazing graphics and promotions
2. POS – SMS and email  campaigns are the most cost effective way to promote your online food order site
A newsletter database without the possibility of mailing campaigns wouldn't be worth too much. The Posso web app system helps you impact the number of orders placed by customers thanks to the possibility of easily creating and mailing SMS and email campaigns, as well as PUSH notifications in the case of the restaurant mobile application.
This way, you can notify people about new products or changes in the menu and send text messages with a discount voucher within minutes. Thanks to this, your customers will be happier to place orders at your restaurant, and you will earn more.
POS – Boost sales with shoppable landing pages
Quickly give your customers a complete shopping experience.
POS – Grow your audience with every new customer
Send automated email flyers 100% on auto pilot
POS – Allow sharing of info from customer to customer
Get more users to your app – Make more sales – Make more money
Say hi in real life with printed postcards
Design postcards that fit your brand, and we'll print, stamp, and mail them to people from your database
Let them know you're listening with a survey
Responding to change starts with understanding what your audience wants. Create and send a survey today to see what's working—and what's not.
3. Promotion engine in online food ordering system
Posso's system will help you create various promotions just like the ones you offer to your eat-in customers. Use them to increase sales in a short period of time.
Discount for certain products
An online food ordering system will help you increase sales of selected products or entire product groups. The choice is up to you! Your customers will now be able to order only selected products or entire product groups for less.
Discount for the second product
If you want to increase the number of products in the cart, offer a discount for the second product in an order. This will be sure to make your customers want to order more.
Discount with set Price
Allows for a value say £2 off when you spend XYZ in cart
4. POS –  Up selling and cross-selling with your online food order system
Your waiters recommend various dishes and suitable extras in your restaurant. The Posso online food order system can also become such a "waiter" for online orders. You can configure it easily to add extras to particular meals which pop up on the screen as a choice when the customer is placing an order.
This way, you will increase sales of products you want to sell the most.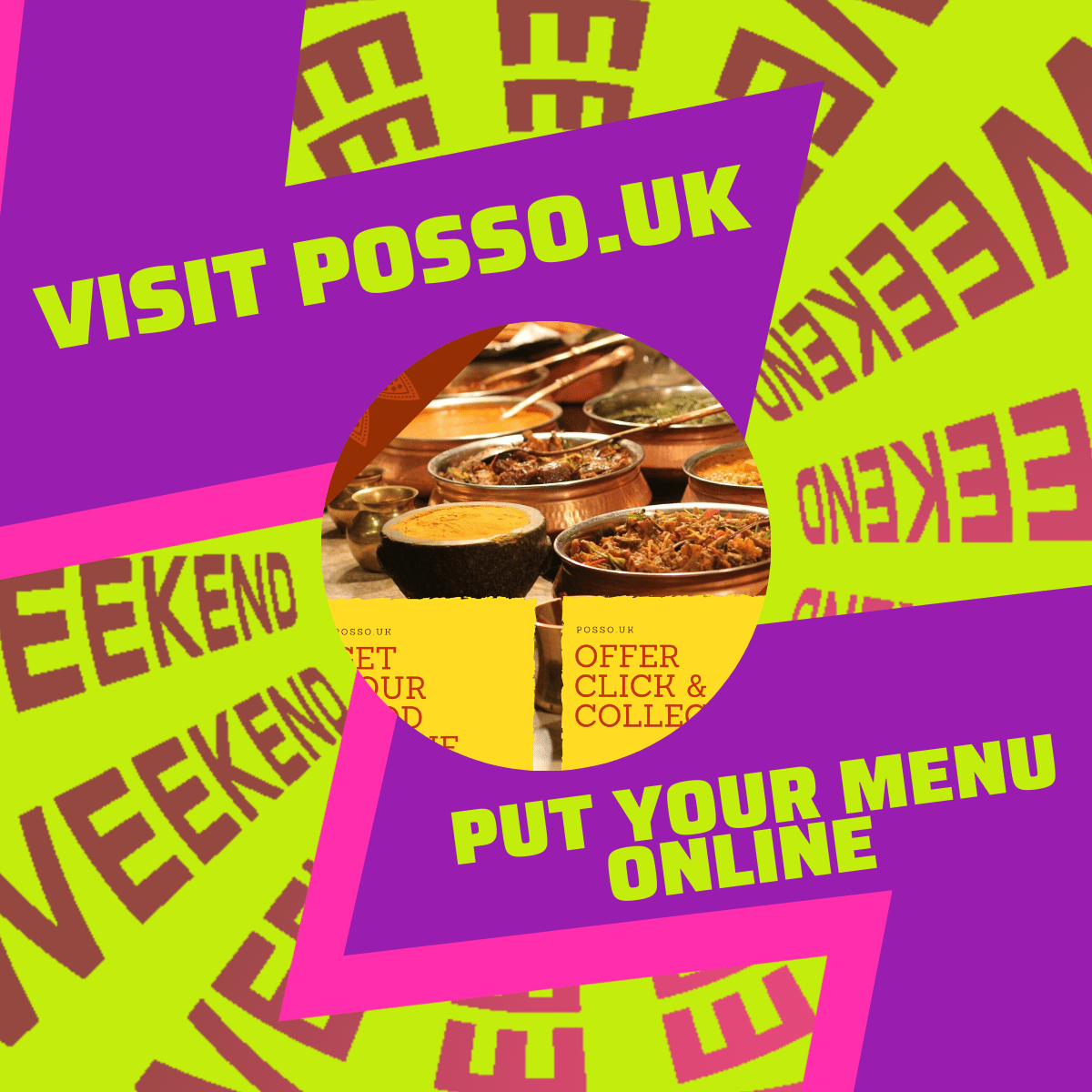 POS – Our back office allows for real time changes Loyalty program
A loyalty program is one of the best methods for building loyalty among customers. Use one and your customers will order more and more often. Offer this possibility both in the restaurant and online. 45% of customers say a loyalty program would encourage you to use online ordering more often. (source)
The Posso restaurant online order system enables you to create loyalty programs in two ways. The first method is to offer points to be awarded to the customer for ordering items from the menu. The points can later be exchanged for specific items on the menu in subsequent orders. The second method is to award stamps for each order with the customer receiving a prize after collecting a certain number of stamps.
6. POS -Fancy Scratch card game keeps customers interested in your food order system
We created a fun scratch card Game – You set the rules  – how many goes a day and what % win rate your customer can play the game on the app only. If they win then offer what you like as a prize. Its fun and keeps customers engaged.
7. POS – Automated generation of statistics
The online food ordering system generates statistics for You any time you want regarding online sales, covering any given period. Based on such statistics, you can make more conscious business decisions. You will see what sells best and when most orders are placed. Use the data when planning shopping for your products, changes in the menu, and required numbers of staff members. Our back office allows for real time changes of menu prices and menu items so you are in complete control
8. POS – Pre-ordering
Pre-ordering enables your customers to order food for a certain time. They can make the pre-order any time they want. Don't lose orders when the restaurant is closed, enable your customers to order lunch in the morning when they arrive at work. When time slots get filled up it is frustrating for the customer – our pre order allows them not to miss their desired slot for collection.
9. POS – Discount vouchers
When you use discount vouchers, you can increase your sales in a short period of time. The Posso restaurant order system makes it possible to generate any manner of discount vouchers to be used on your restaurant website and mobile application.
Discount vouchers will also help you measure the effectiveness of particular marketing channels. How can this be done? Generate various discount codes with the same promotion conditions and provided them to customers in a variety of areas such as on your restaurant Facebook page, on Instagram, on flyers or in the restaurant. You will see the discount code that was the most popular in the Posso  system.
10. Marketing automation
Together with the online food ordering system, you can launch marketing automation. This feature will enable the system to mail various messages to customers send out  email shots and news letters with offers and other information.
This is also a great idea for activating customers who have not made any orders from you for a long while. The system will, for example, send a discount voucher to a customer who hasn't placed an order for 30 days, etc. This way, you will increase the number of orders and you won't even have to remember about such activities! Set the automation and the Posso food order system system will mail the campaigns automatically.
POS – Best Online food ordering system in your mobile application for restaurants
25% of smartphone users have at least one restaurant mobile application installed.
The Posso online food ordering system enables the integration of online orders with a mobile app.
You can easily match it with the brand image and appearance of your website. Additionally, each change in the menu will be immediately visible in the restaurant mobile application.
This is a new sales channel that will make it possible for you to carry out more food delivery orders.
More orders equals bigger profits so you can earn even more!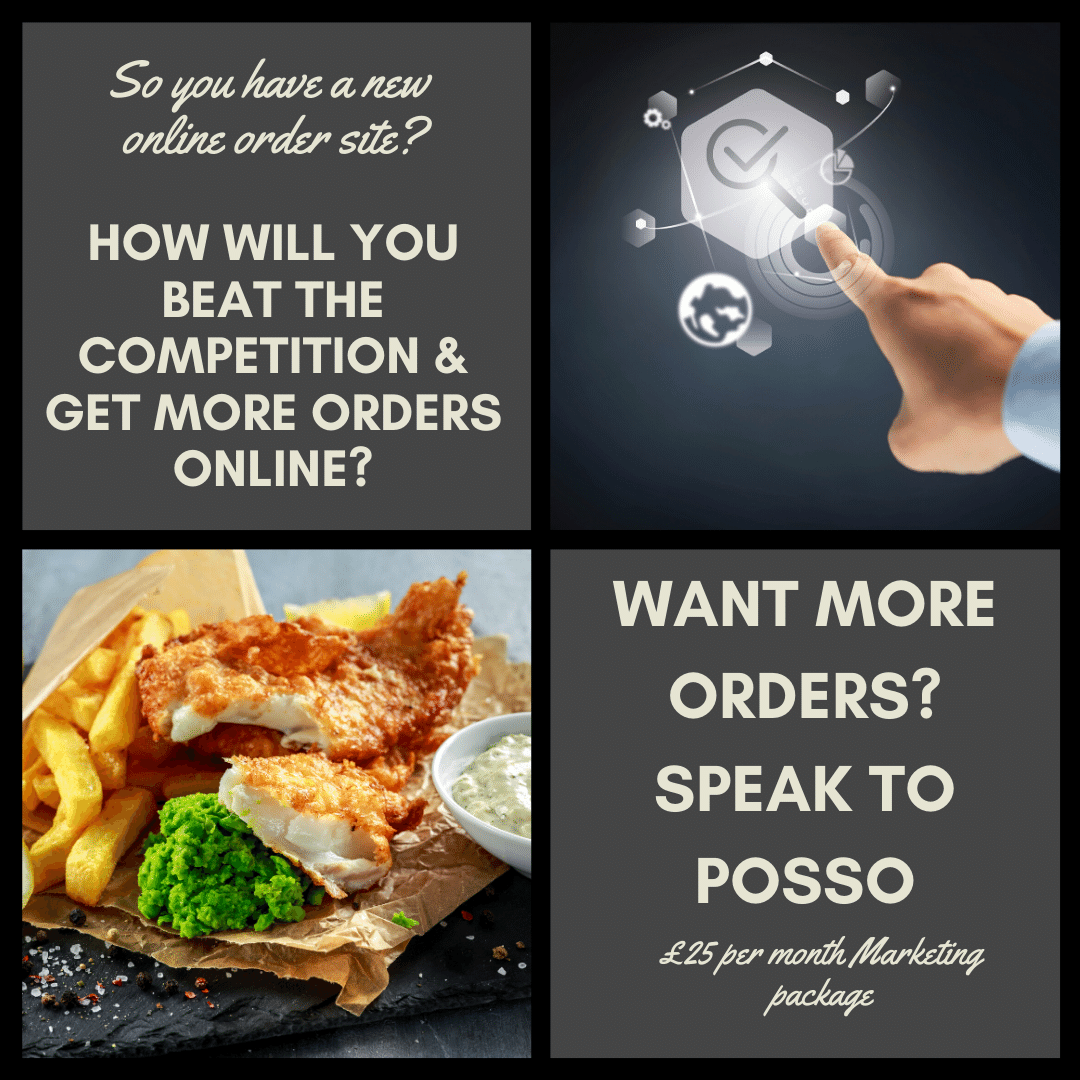 POSPOS 
POS – Convenient online payments thanks to our Paymentsense integration
Currently, 56% of customers prefer to pay their bills online.
Don't lose customers who don't carry cash. Customers prefer to pay for online orders with a convenient online transfer. We  Integrate with Paymentsense – Stripe and PayPal our preferred supplier is Paymentsence who offer the best rates and service with money into your bank even same day.
POS – Online ordering portal vs. online food ordering system 
Cut out the 'middleman' and stop giving away 20-30% of your income in commissions and admin fees and increase your profits.
We make it super easy for your customers to order their takeaway direct from you. All money is sent direct to your bank account and our fee is fixed, so you know exactly what it costs.
The costs increase endlessly
When working  with an online food POS  ordering portal, you pay a commission on the value of meals sold. This means that the more you sell, the more you pay. The costs can increase endlessly. This seems OK at the start but as you get busier and more customers come to you you will wish you had your own system for sure.
When you launch an online food ordering system, you will only pay a small monthly subscription with Posso, regardless of the number of orders. This way you save and earn more.
You don't have your own newsletter database
When your customers place orders through the restaurant website and mobile application, they will leave their contact details with consents for sending newsletter campaigns. This way, you can develop a database that will belong to you. NOT third party
A newsletter database is also generated automatically on an online food ordering system. The only difference is that it doesn't belong to you, but instead to the portal, and you have no access to it. Instead, the portal can send campaigns promoting other restaurants, to your customers! How does this make any sense as a business at all?
You become dependent on a food portal with POS
Selling online without any online ordering platform alternative leads to your business becoming dangerously dependent on the portal. When you don't have any other options for ordering online that you can redirect your customers to, you will cooperate according to the rules of the food portal. If you don't agree with them, you will lose profit from online sales. Be prepared to switch your customers to your own systems with marketing flyers designed and printed by Posso.
Huge competition in your market and in your area
An online POS food ordering portal is not your own shop where you sell food. It is a huge supermarket, where products of other competitive brands are located on the shelf next to yours. When you redirect customers wishing to order online via a food portal, you will not be certain whether they end up ordering at your restaurant or somewhere else.
This is why it is so important for you to offer your own online orders through the restaurant website and mobile app and redirect your customers to them. This is the only way for you to develop a strong position on the internet so you can sell online effectively. Instagram and Facebook marketing help is always available from our experts marketing team (costs of marketing are not included in our monthly fee.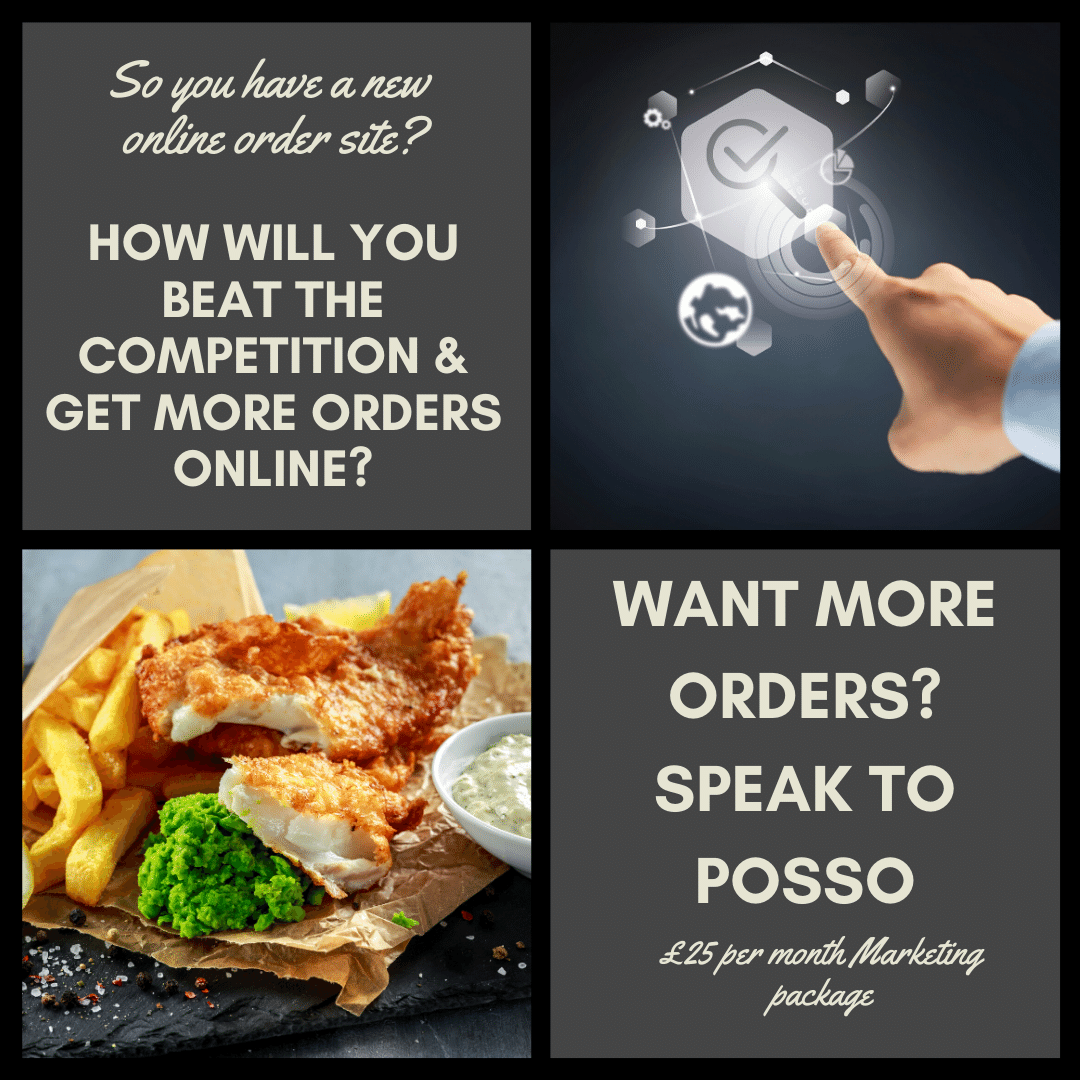 POS – POS
POS – Start today with  a Posso Best online food ordering system
Instead of thinking about how to create an online food ordering system for your restaurant, use the advanced Posso online food ordering system
You will pay a fixed, low subscription £99+vat, not a high cost to build and maintain the system. The fee will contain all the necessary elements:
support for POS
POS Hardware
Web page
extensive sales functions
new marketing tools
POS Menu creation
Set up is usually within a few days
POS – Great steps to increase the number of orders after launching the best online food ordering system
When you launch an online food ordering system you should complete a few more steps so that your customers can find out about the new method of ordering. This way, you will ensure a good start for your business and start earning right away.
1. Place information on your restaurant website
Information on the homepage of your restaurant website is key. Without it, customers who visit your website will not place an order. You can notify your customers about the new method of ordering food through your restaurant website in several ways:
Changing the name of the "MENU" section to "ORDER ONLINE"
Adding a special button "ORDER ONLINE" on the homepage
Creating a pop-up notifying customers about the new online food ordering system.
2. Add a post on your restaurant Facebook & Instagram page
Facebook & Instagram are currently the best places for promoting a restaurant. Use this to your advantage and add information about online orders being possible through the restaurant website on your restaurant Facebook page.
Prepare a special post. You can also use Facebook Ads and reach even more recipients this way!
3. Include information on all printed materials
When you order new packaging for food to be delivered or new promotional flyers, don't forget to add information about the new delivery method. This way, your customers will come across such information easily, and they will certainly order through the restaurant website next time.
4. Inform dine-in customers about online food ordering possibilities.
When members of your staff take telephone orders, they should notify customers about the possibility of placing online orders easily through the restaurant website.
When customers ordering through the telephone start ordering online, you can promote the restaurant in a better way thanks to the comprehensive marketing tools available in the restaurant online order system.
5. Offer a discount for the first order
Your customers will be happier to try out online orders if you give them a discount for the first order. When they see how easy it is to order through your restaurant website, they will certainly return to order more.
6. Build a newsletter database
By using Posso food order system you will build a database of your customers automatically, along with consent for marketing contact. Such a database can be used for promoting your products and offering special discounts.
Due to the above, you can remind customers about your restaurant and they can order more online. You will soon be earning more.
7. Mail chimp integration
Posso online food order system will soon integrate with Mailchip thus allowing for total automation on email marketing materials. Send on autopilot up to 2k emails per month absolutely free of charge with a FREE Mailchimp account  – Paid subscriptions are not part of Posso monthly fees
8. Facebook Bots (THIS IS NEW)
POS – NEIL PATEL'S FAVOURITE CHAT BOT MARKETING TOOL
For some reason, not very many marketers are taking advantage of chatbots for automated website chat, SMS and Facebook, even though chat marketing has elite ROI.
MobileMonkey is the only platform that allows marketers to make Facebook ad bots, SMS bots, and native webchat bots in one place.
Neil Patel
POS – A Revolution in Customer Communication! OmniChat Marketing Automation Tools to Transform Your Business in 2020
POS –  Why OmniChat™ Makes Messaging for Business So Much Smarter
So, what does OmniChat provide that's different from the usual message marketing platforms, tools, and services?
To start, OmniChat by MobileMonkey allows you to consolidate SMS, Messenger, and Web Chat all in one place.
This means you:
Win more leads, as people are 3x more likely to engage with chat vs. website platforms
Get more sales, because you'll be able to communicate with your hottest leads immediately
Build customer relationships, since 75% of customers say they'd rather message with business than email or call
? POS what is pos?
POS, is the place where your customer makes a payment for products or services at your store. Simply put, every time a customer makes a purchase at your store, they're completing a point of sale transaction. Can be also known as Epos electronic point of sale
? What is the best POS System in the UK?
Deciding on which would be the best POS for your restaurant brand is a complex task. You have to take into account every functionality that could be utilised to support your business sales. Key features that support restaurant establishments are: POS Order taking app POS Easy delivery zone setup POS Convenient menu customisation POS Integration with online payment platforms POS Easy implementation on website POS Marketing automation tools POS Social media platform ordering support POSMobile app support POS integration POS Layout customisation Another important aspect of any POS system is the monthly cost. Posso Ltd. solution offers amazing features of the online food ordering system and more, for a fantastic low fee of £45+vat per month.for licence and support
? What is a POS online Food Ordering System?
POS for ordering can be described as a way of allowing  customers to place orders online for food products through interactive menus placed on websites, mobile apps, or social media pages. The online food ordering system takes those orders and sends them straight to your POS system, making it possible to instantly accept and process these orders.
? How long does it take to set up POS?
POS will take about 2 Weeks from scratch. Ios apps take 3-6 weeks to go live - Android apps can be live in days
? POS support do you offer this?
Posso POS systems we are proud of our support level and offers quality fast support for all products
? How much does POS cost?
POS systems with POSSO start from arount £1200+vat configuration options and prices are available depending on your business needs
Summary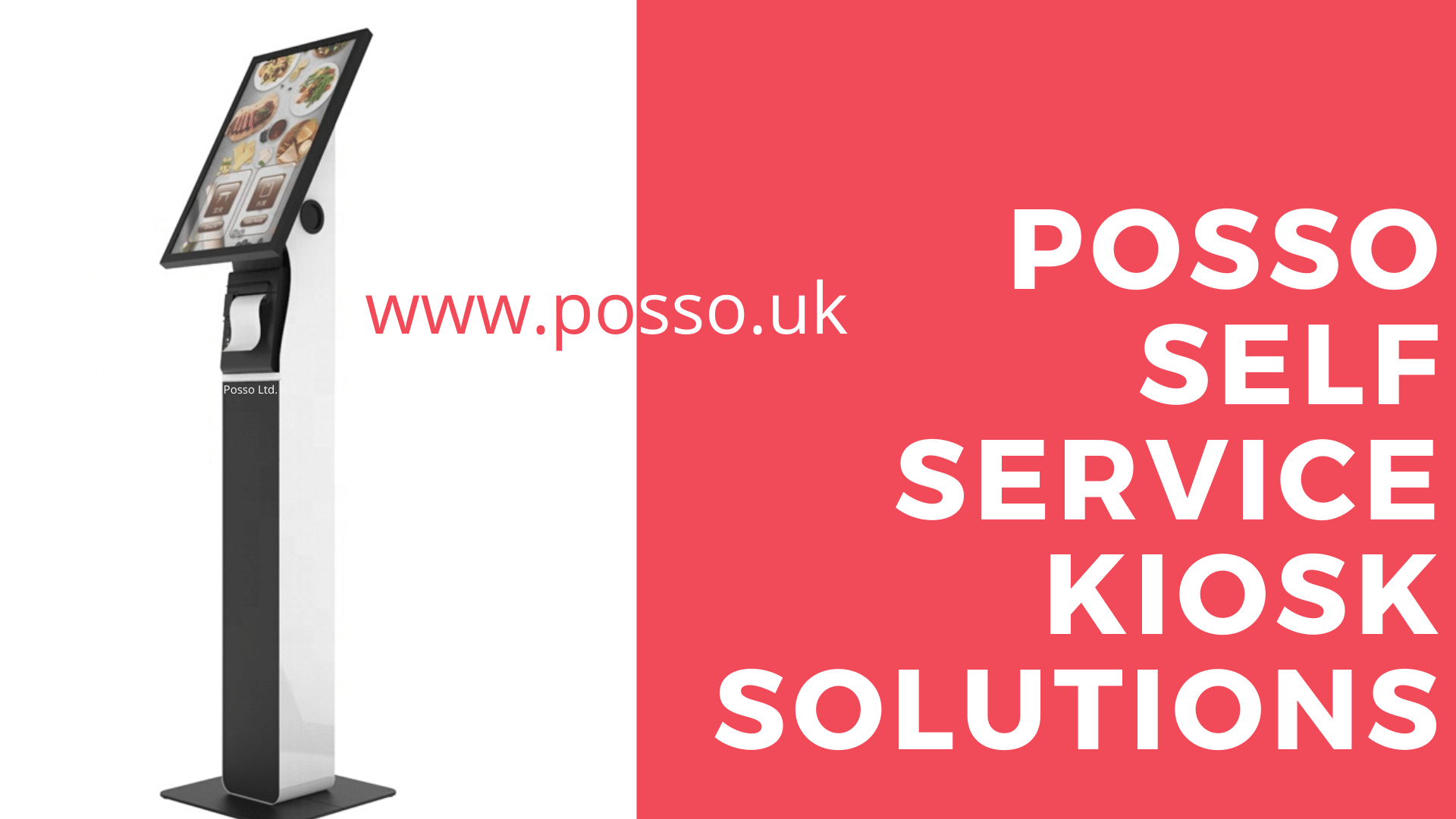 Article Name
Description
POS by Posso Ltd. POS systems the easy way. POS made for you by Posso Ltd.
Author
Publisher Name
Publisher Logo