Kitchen screens with a difference
Posso have kitchen screen with a diffence – At a basic level, we have a simple printer replacement solution with bump screens
for systems that need to drill down in the production we  have the full Kitchen Management System that supports multiple screens, work flows, packing stations, and order ready boards
· Kitchen staff can be helped to work in dedicated areas if they have a screen that informs them what to.
· Not handling tickets and maintaining distances. Breaking workstations up requires a new form of communication and the Posso KMS and our new technology can help with this.
With our new solutions we can develop separate pick up stations can be utilized keeping them apart and the KMS can be used to communicate to customers where to go to collect food.
Implementation of these system will aid with the social distancing for customers and staff but equally as important increase work flow within the kitchen it's self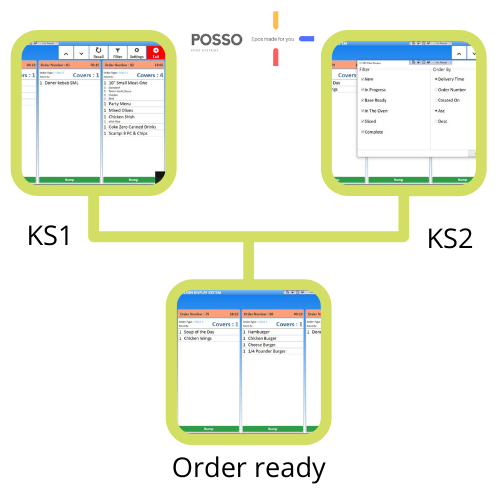 Organise a DEMO
Take a FREE Kitchen screen demo?
Would you like a Kitchen screen demo?
Place screens in areas of the kitchen where you make separate parts of a dish. Allow then each section to mark that their art is ready and allow the next w=section to see the status of the first screen, the work flow can be as many sceens as required 1 -2 – 3 – 4  
Introduce a customer order ready screen for the customer to know their order is ready for collection at the collection point. Or have in-house order ready for the staff to finalise the order. Posso kitchen screens are so flexible and allow ticketless kitchen operaton. Posso kitchen screens can be mounted on swivel or tilt and angle brackets and can come in various sizes starting fron 15.7″ screen to 21″ screen. 
Posso kitchen screens are excellect for the QSR restaurantt tahst looking too speed up production to the next level without mistakes
Kitchen Screens that just work like they should do!