Thermal imaging temperature measurement Face recognition specifications
New technology for new challenging times
​AI thermal imaging face temperature detection it's an intelligent terminal  (POSSO-008) A face detection and temperature measurement product that integrates facial contrast recognition with heating imaging using the contactless temperature measurement module. 
When the user conducts face recognition, the human body surface temperature can be measured by thermal imaging with iR
The whole face recognition measurement process is non-contact experience, and is accurate, reliable, efficient and perception-free. 
If the temperature of the detected person exceeds a certain threshold, the signal light of the terminal will send out an abnormal warning and carry out a voice warning. 
The online portal will give full access to all records for time and temperatures and logs these against registered users for guests they also can use the system all guests are recorded with time and temperature also.
There are so many practical uses in hundreds of scenarios such as office – showroom – all clubs – care home – Airport – private  hire car just to name a few.
This product gives employees and visitors peace of mind.
When the temperature scan usage will become less important this system has long shelf life for easy staff attendance and high low temperatures in the future it will be the NEW normal.
Some airlines have also announced that they will be conducting temperature checks. 
Frontier Airlines will start screening passengers
 for fever on June 1. Travellers with a temperature of 100.4 degrees Fahrenheit or higher will be denied boarding. Air Canada is doing similar checks.
Given the outbreak of COVID-19, the airline boarding process is shifting. The latest gate-side change for many carriers: a temperature check to determine whether passengers are healthy enough to be allowed on the plane.
In recent days, airlines in North America, Asia, and Europe have announced mandatory temperature screenings for their fliers. The new policies are part of a larger push among air carriers to implement new health and safety policies as air travel begins a nascent reopening in some regions of the world that have bounced back from the pandemic.
Thermal imaging face temperature measuring intelligent terminal specification
Product advantages 
Automatic temperature measurement Non-contact in vitro temperature measurement to reduce  the risk of cross-contact 
Mask identification Check whether to wear masks to enhance safety precautions.
Intelligent Broadcast Warning of abnormal body temperature + remind to wear a mask
10,000 database capacity, binocular in vivo detection Real-name testing Proof of identity + indication of attribution Monitoring of key staff Stranger warning + blacklist management 
Monitoring of data management After discovering the high temperature data, warns the management  Via the online management portal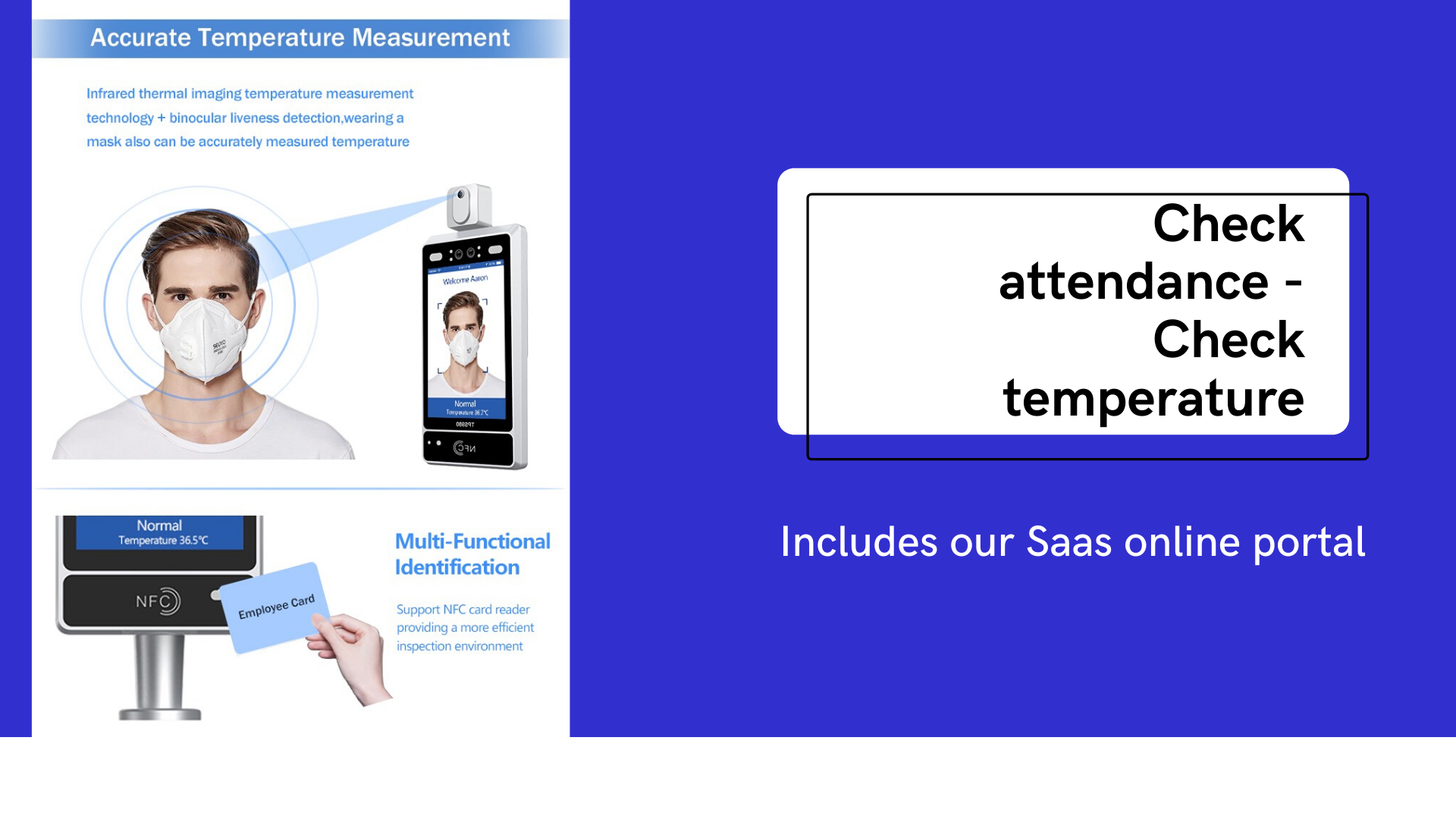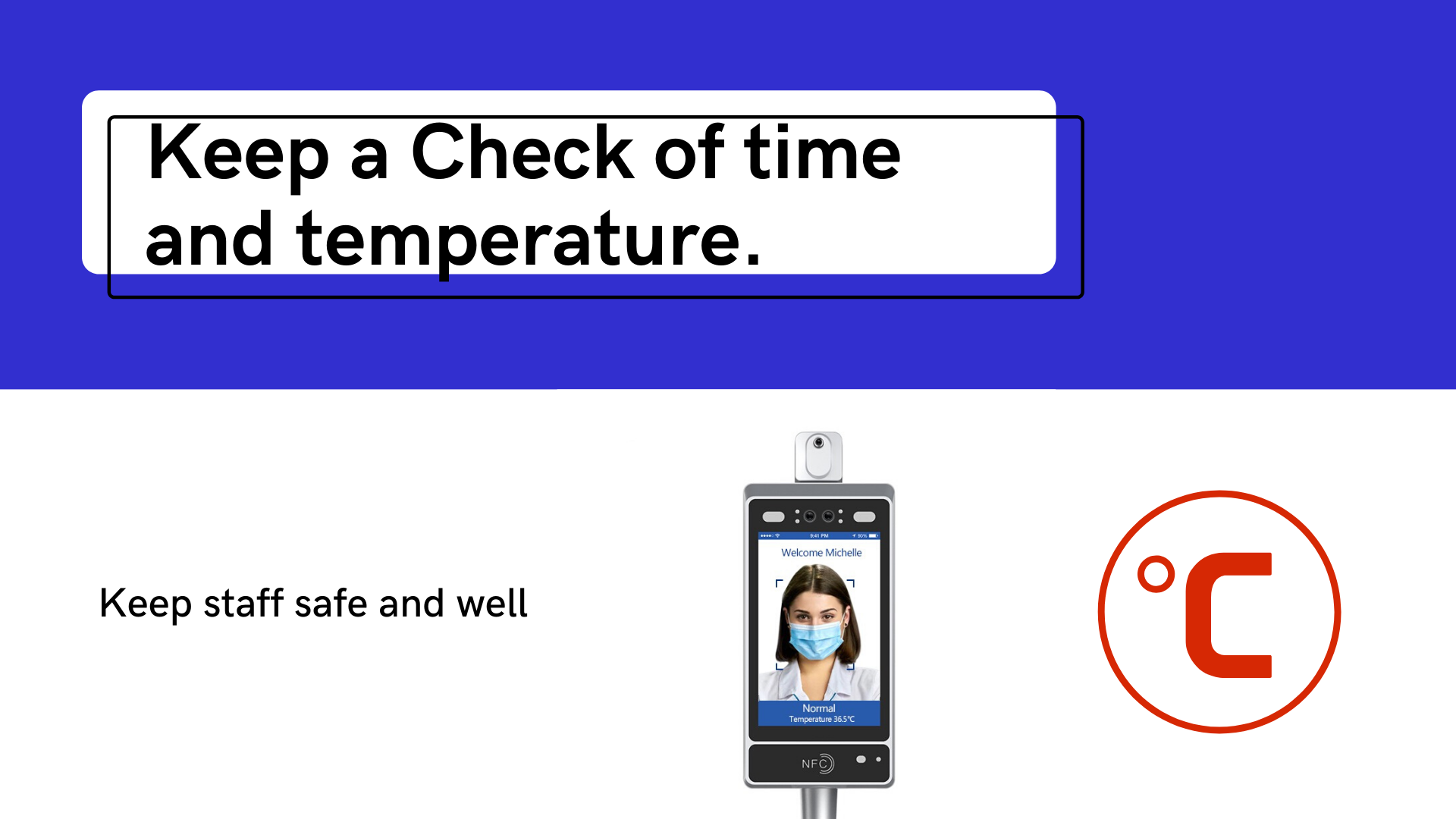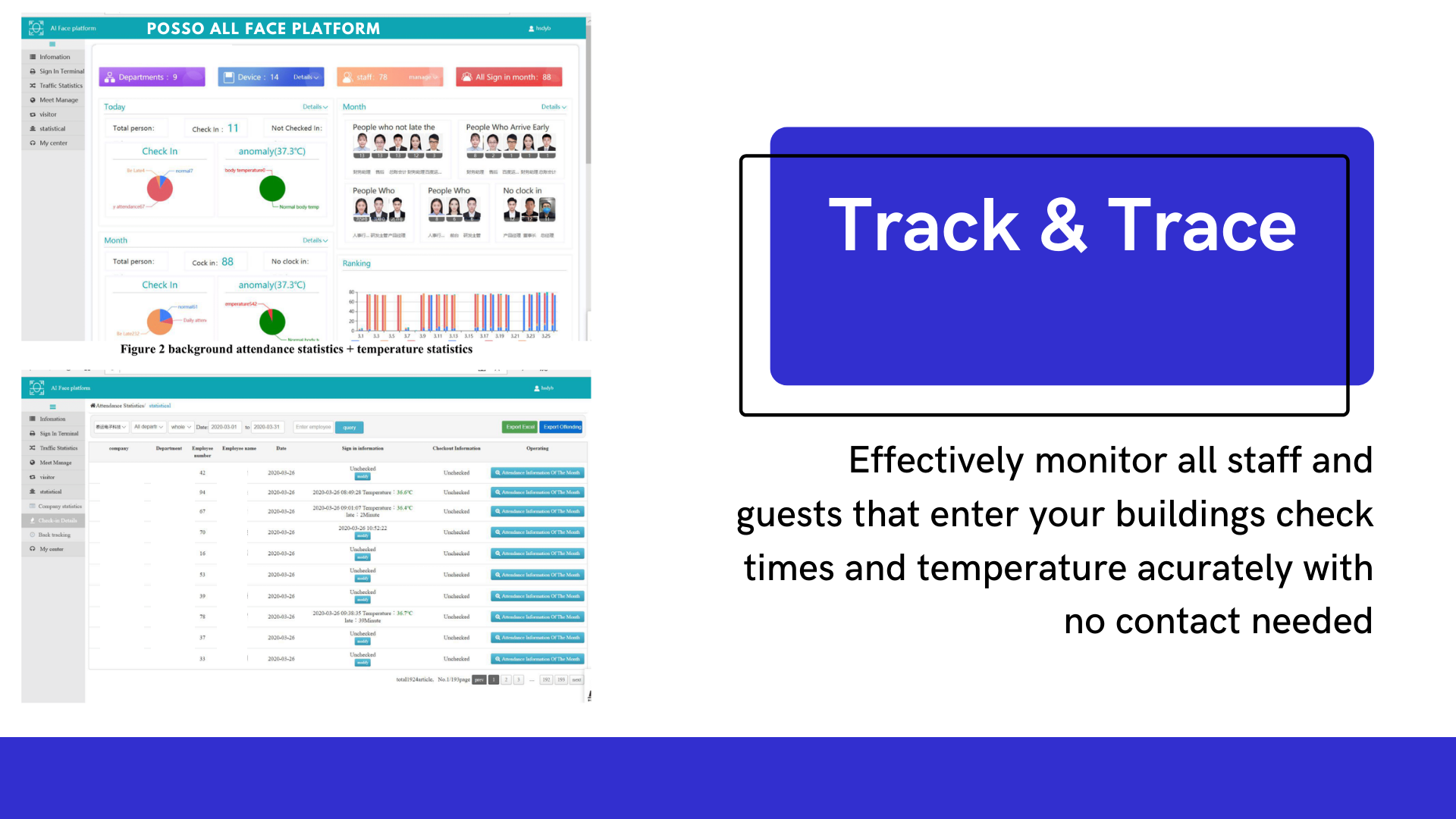 ? How does Posso temperatutre and time logging system work?
Walk up to the unit and scan your face  to register staff name and id  - each time staff use this then logs the time and id onto the server. You are able to log onto the server admin area to fetch all the information
? Does it record time clock in and out
Yes - the system clock in and out using facial recognition
? Does the system record temperature?
Yes the temperature is recorded against the staff with test time referencing the temperature.
? Does this warn you if high temperature?
Yes it flashes  RED  and warns also with sound
? What support do you offer?
Posso is proud of it's support level and offers quality fast support for all products
? How much does it cost?
Our full system with stand is £2500 +vat per unit